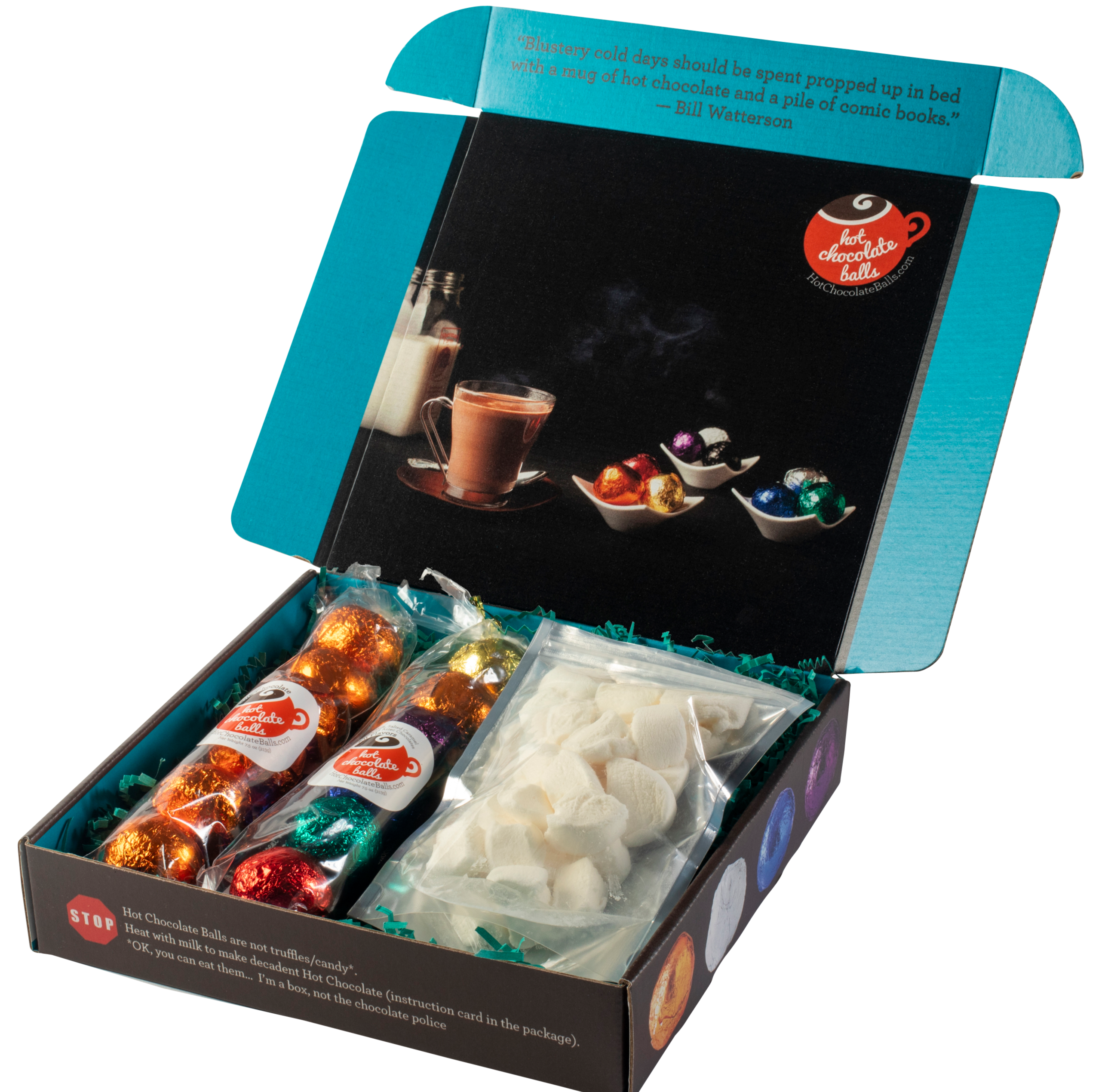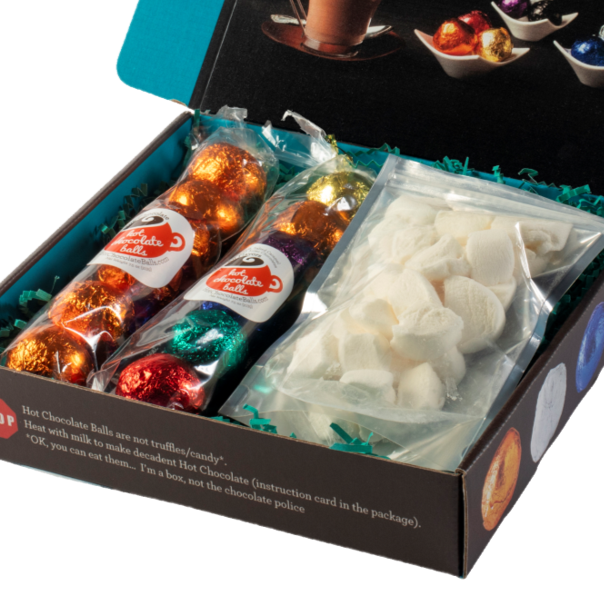 The Gift Box is Back!
(Now with delicious cookie options)
A wonderfully delightful and playful box containing one sleeve of our "All Flavors" Hot Chocolate Balls and one sleeve of Original Milk Chocolate Hot Chocolate Balls.  Paired with a bag of "double-vanilla" handmade and handcut marshmallows from MarshmallowMBA.  And introducing Mug Buddy cookies, whimsical, artisan cookies that perch on the side of your mug! (The snowflake cookie  has a ribbon to hang as decoration.)

Makes a great family gift, available for corporate gifts as well.
You may also like
Enjoy more of our delicious hot chocolate balls
We have answers for you
What are hot chocolate balls? Candy? Liquid filed? Hot chocolate flavored?

Hot Chocolate Balls are solid, chocolate confections that you use to make a full 8 ounce mug of real, decadent hot chocolate. The Hot Chocolate Ball base is made from couverture chocolate, cocoa powder and honey. We offer six (6) standard flavors and a sugar free variety. We occasionally also offer limited edition seasonal flavors.

Do I need to refrigerate / freeze them?

No. All hot chocolate balls are shelf stable at room temperature for at least 1 year. Just store them in a cool, dry place for optimum flavor and appearance.

How do I make hot chocolate with the hot chocolate balls?

There are actually many ways to make hot chocolate with our Hot Chocolate Balls. See here for details. From the instructions included with the balls: How to make the perfect cup of Hot Chocolate 1. Unwrap your hot chocolate ball. 2. Drop ball into a heat-proof mug. 3. Microwave for 20 seconds to soften chocolate ball. 4. Add 8 oz. of milk (for an indulgent experience, add 6 oz.) 5. Microwave until hot, but not scalding, about 90 seconds. 6. Stir Vigorously. Sip, Savor, and Enjoy!